This weekend, August 28-29, is the 14th annual Princess Margaret Cancer Research Foundation's Ride to Conquer Cancer and it will be my first.
I became aware of this ride while I was in Toronto at the Princess Margaret Cancer Centre (PMH) receiving CAR-T treatment for lymphoma. Today, thanks to this cutting edge treatment, I'm cancer free. Every time I was in the PMH elevator I'd see this picture on the door and as an avid cyclist, I knew this was for me.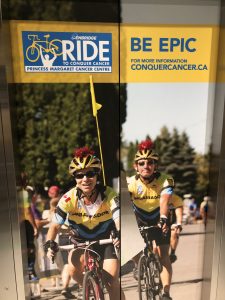 So I signed up for the ride and did some fundraising.
Thank-you to all who supported me on the ride and this cause. Together we raised $2,696.10 and the ride in total raised an amazing $9,910,000 for life-saving cancer research.
Being optimistic and liking to set a challenging goal for myself I announced that I'd ride 100 miles or 160 km, the classic cyclist century ride. So, several months ago I started a formal training plan riding indoors or outdoors three times a week following a Trainerroad plan. For a couple of months this worked quite well and I stuck with the plan. Then, somewhere along the line the plan fell off the rails. I was still riding a fair bit but it was more sporadic and solo and group outdoor rides replaced the formal training efforts.
Over the last while I put in some 70, 80 and 100km rides but no 160km rides. All the over 70km rides turned out to be pretty challenging so I was not so sure about the 160km goal.
In sharing this goal with Shirley and my doctors they were supportive about the ride but cautious about my distance goal. It was suggested that something shorter might be appropriate or at least splitting the ride over two days.
As the weekend rolled around I was still undecided about the distance and was really going to approach it by "feel". We found ourselves at the lake on the August weekend and some of the family was out as well. I really wanted to spend maximum time with the family so I skipped the two group rides that I could have hooked up with on Saturday and Sunday. As it turned out the family had to leave early on Sunday afternoon, so it was time to ride!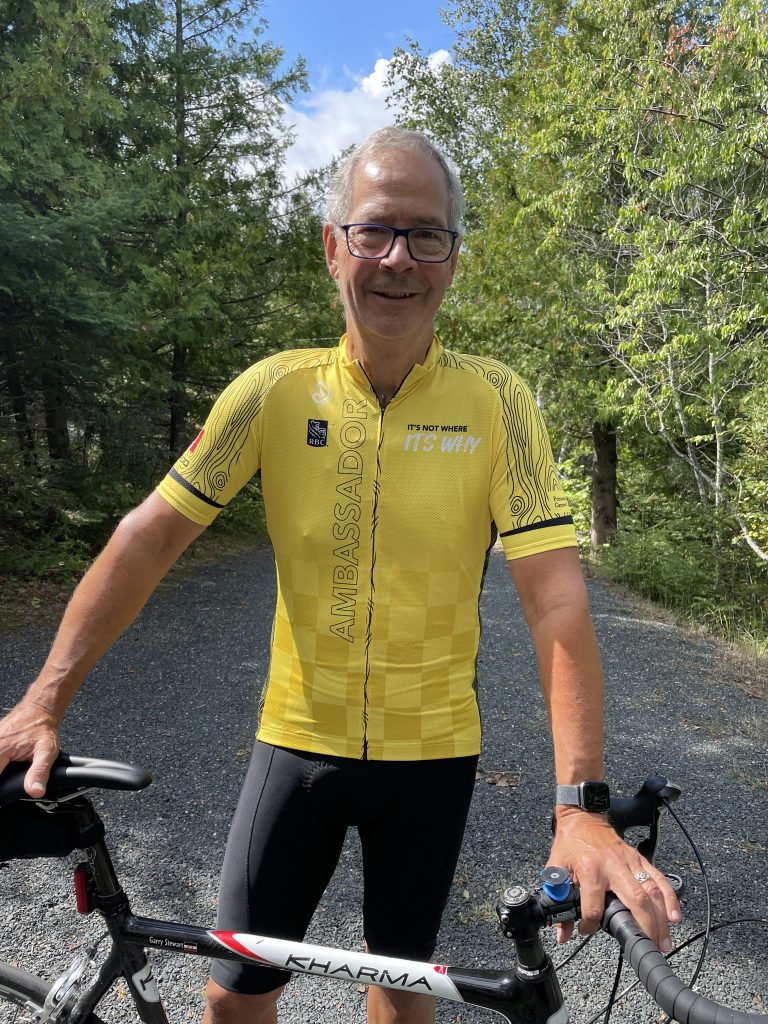 Normally at the lake I ride right from the cottage. However, there has been quite a bit of fresh gravel road work done recently which is really unpleasant to ride on so Shirley gave me a lift to the Fire Hall at the start of Storm Bay road so I could launch right onto the paved highway. I'm underway at about 1:30pm.
Given the wind direction I opted to ride basically south on Hwy 71. I'd take 17A from the Fire Hall for a few kms and then turn south onto Hwy 71. As I'm riding I still hadn't committed myself to a distance. After about 1/2 hr I'm thinking 50km out and 50km back for a respectable metric century. Not the originally conceived 160km but still a respectable goal.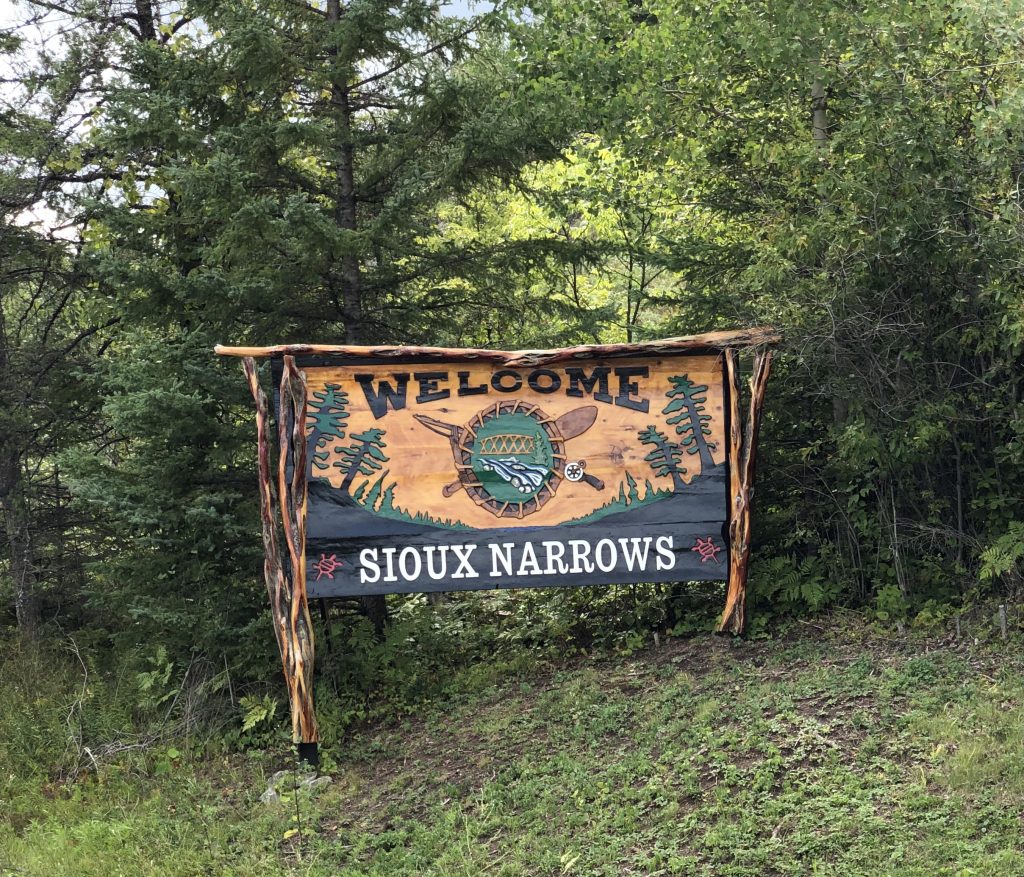 As I approached the 50km mark there was a sign on the side of the road, "Souix Narrows – 16km". Hmmm, I've never ridden to Souix Narrows on the bike and it's just 16km more than I was planning or really 32km more than planned but what the heck. A new goal was in place and I wanted that picture of me at the iconic Souix Narrow bridge.
Being in Winnipeg means that almost all my riding is on the flat prairies. This is not the case when riding at the lake in Northwestern Ontario. There are a lot of hills. As I'm working my way to Souix Narrows I start reflecting on just how many hills there are and that I'll need to do them all again in the reverse direction.
Finally, after what seems like a very long time, I arrive in Souix Narrows and stop for the "bridge shot".
Once in town I take a break for mid-ride refuelling and eat my bagel & cream cheese with a very hungry fish looking on.
After the snack it's back on the road. Things seem to fly by for the first while and then around the 70-80km mark things are seemingly a lot harder. I'm getting tired and the solo boredom is setting in but as a friend often says spin, spin, spin. The weather is a mix of sun and cloud with a little more cloud than I'd like including a few brief rain showers. One was hard enough to get me to stop and put the phone in a baggie. Mentally in my mind I'm ticking off the major markers, Luther Village then Rushing River, then 17 & 71 intersection, then Reddens, then The Fire Hall where Shirley will be waiting to drive me back to the cottage. I'm very thankful I don't have to do the hills on our Branch Road #3 which has one that is a short but steep 9-10% grade.
Like all good rides it really didn't happen unless you've recorded it on Strava. Due to a bit of bad planning on my part the bike computer ran out of battery at 43km so the ride got recorded in two parts.
Total distance of 124.9 km in 5 hrs and 10 min moving and 5 hrs and 38 min elapsed time. All in all a good day and I'm satisfied with the effort.